February 9th - The Sky-Colored Seed (Hayao Miyazaki, Yoshifumi Kondo, 1992)
More fantastic art and "truth about life" in a crummy little 90 second movie made out of paper than most directors have in a career... it is devastating that Kondo didn't get to make more movies - but wonderful that at least Miyazaki did!
5/5
February 10th - A Moment to Remember (John H. Lee, 2004)
very moving k-melodrama... not sure what i didn't like more about it. bit humdrum in ways or something. just didn't do it somehow. but... moving!
3/5
February 10th - Tomorrow's Sun (Nagisa Ōshima, 1959)
What an utterly and wonderfully bizarre flick!! A 6-minute advertisement for some movie studio for all of their young "star" actors who will soon be featured in movies coming to a theatre near you - and it's just an excuse for Ōshima to play around with colourful sets and fresh young faces in fantastical situations the whole time. Random funny looking actor over here! Another over here! Ha-ha! Yoooooshi!
3.5/5
February 10th - She and Her Cat (Makoto Shinkai, 1999) - 2/5
February 11th - The Green Beautiful (Coline Serreau, 1996) - 0/5
Good things about this movie:
- how absurdly pretty Marion Cotillard is (this positive is somewhat negated by her beauty causing her character to be abducted to another planet by one of the two insufferable idiot twins, but nonetheless,
very
pretty!)
Le mal:
1. Bad:
This is debatably one of the worst movies ever made, but it is almost certainly the smuggest, and without question the smarmiest. I squirmed like a cat rolling on its back tripping on acid while watching this; FUCK it was smarmy! It made me feel dirty, dirty, dirty. All of the "irony", all of the grotesque straw man setups to make humans and human progress look bad and evil and demented. People yell when someone crashes into their car, ergo all of human civilisation is folly and must be abandoned. Babies must be milked telepathically for ostensibly mutual physical sustenance. Trees must be thanked. What is this movie even trying to say? All technology is evil? But this movie was made with technology, and in the BS utopia of insufferable cavemen flipping around and laughing about how advanced they are this movie couldn't even be seen. Huh? And for that matter, there is the issue of the lipstick... but more on that later. This movie is unconscionable merde and very nearly a war crime!!
2. Hated:
This is one of my most hated movies of all time, and it is just absolutely offensive and insidiously disgusting in its ideological assault. It's very likely the most openly fascistic movie I've ever seen, and I am DISTURBED by the thought of people seeing it and thinking "fuck yeah!" Its fundamental message is simple: we're right, others are wrong, and we will do anything it takes to defeat and destroy them. The running joke throughout the movie is that it is justified to mind-rape and brainwash bad people for their politics (and it briefly mentions a civil war on 'the green planet' which apparently culminated in a genocide against all people who engaged in some of the more, or even mildly, unsavoury aspects of industrialisation). Have these people read 1984? Arendt on Totalitarianism? Any history? DON'T MIND-RAPE PEOPLE! It's not nice and eventually you wind up with a creepy all-white society of dipshit hippies who go around violently spreading their propaganda to unsuspecting victims on other planets.
Oh yes, and the issue of the lipstick... The movie (at least through the happy-go-lucky protagonist) mocks and bewilders one poor woman for... wearing... lipstick. "Are you wearing it to make people love you?" she asks. The women stammers and gives a nonplussed
"well I'd never thought of it that way and I am awed by your wisdom in pointing out our hypocrisy"
look, and the scene moves on.
Later on in the movie, the insufferable idiot twins see mmes. Cotillard & sister and immediately fall in love with them... because... they're beautiful. ...Ho hum. Anyway, this point falls under both 1. Bad and 2. Hated. 1. It's bad because it's just stupid hypocrisy, dreary juvenilia masquerading as serious philosophical critique of society. Don't mock people for trying to look beautiful and then show how it's good to look beautiful! But - and pardon me if I'm making a bit of a stretch with this second point - 2. I hate it because it is still more evil fascism! In this case, our old friend, master-race ideology. What is the message? That either you are born beautiful, one of the (literally) chosen people, and you get to go join the superior race in the utopia -- or else you are born unbeautiful (if not ugly), and you are not permitted to try to beautify yourself because you are simply not a superior individual. Remain at your station, missy! No makeup for you! (And it doesn't matter that the people in the utopia aren't necessarily attractive; totalitarianists frequently tout beauty and strength and intelligence and such while overlooking their own shortcomings...)
The Hitlerjugend frolic in a tribe-affirming ritual
The tribe congregates as one mind - dissenters will be sent to reeducation camp
Yeah I did not like this movie...
0/5
February 11th - Fear Strikes Out (Robert Mulligan, 1957) (3rd viewing?)
woo! very happy that one of my old favourite flicks from when i was 15 or so is still a stone cold killer. some may call it "hokey" or "a naive old timey movie" but what can you do? it has baseball and tony perkins
5/5
February 12th - Loving Vincent (Dorota Kobiela, Hugh Welchman, 2017)
pretty cool for being a completely painted movie and all, and a compelling enough tale, but still ultimately done in by just being humdrum mainstream narrative stuff. a shame because it was pretty cool!! but my memory of its being pretty cool is ultimately done in by my memory of how that song during the end credits was the most awful song i've ever heard in my life, holy shit
3/5
February 13th - My Darling Clementine (John Ford, 1946) - 3/5
February 13th - Mr. Vampire (Ricky Lau, 1985) - (2nd viewing)
what a delightful flick! so many great moments! comedy brilliance, like blake edwards and chang cheh doing some fine, fine drugs together. i have absolutely no idea why this isn't considered a classic HKKFF....
4/5
February 14th - Human Behavioural Case Studies. Series One. (Adam Elliot, 1996) - 3/5
February 14th - Ernie Biscuit (Adam Elliot, 2015)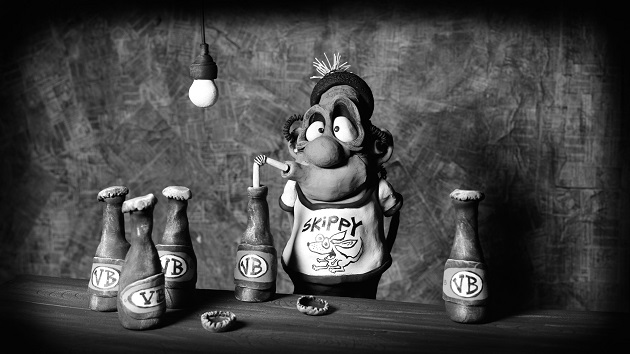 so happy mr. elliot is still (?) making great flicks! maybe his best yet! inexplicably and absurdly touching O__O
4/5
February 14th - Sawdust and Tinsel (Ingmar Bergman, 1953)
not sure how a movie with harriet andersson half naked for half the movie can be so boring... but such is life! strangely like a poor man's fellini flick. the most boring and directionless bergman i've yet seen. but... not the worst one i guess
3/5
February 15th - Jingle All the Way (Brian Levant, 1996)
this movie was suspiciously better than it should've been... very suspicious -_-
3/5
February 16th - The Harder They Come (Perry Henzell, 1972) - 3.5/5 (2nd viewing)
February 16th - The Steamroller and the Violin (Andrei Tarkovsky, 1961)
I sort of wish AT had stuck to making his semi-social-realism commie propaganda movies... such talent for them! And then he probably wouldn't have died from Stalker poisoning. Anyway, this movie was super pretty, especially in the new HD rip! Vladimir Zamanskiy's noble USSR people's worker's eyes pop and sparkle!
3.5/5
February 17th - How High (Jesse Dylan, 2001) - 3/5 (2nd viewing?)
February 18th - Early Man (Nick Park, 2018) - 3.5/5
Yeah! Great fun, very wild and imaginative stuff. Way better than Chicken Run or really anything Nicky Parky has done since The Wrong Trousers. Hopefully he'll continue! Only qualm with this is I do not feel it does the child-adult audience balance very well. Too childish for adultie wulties (mainly with the godawful, soul-sucking, horripilatingly antiseptic songs chosen for it!!) and maybe too violent and terrifying for the kiddies. Maybe. Anyway, I greatly enjoyed the dozens of great puns in this movie (which those damn kids probably don't get either)
3.5/5
February 18th - Wagon Master (John Ford, 1950)
Cool! I feel like this movie is what people are talking about when they always rave about Ford... but everyone raves about every Ford movie ever, so I guess I just don't get it. But this movie had a good balance of horses, pretty women, hypocritical religious people, and KAPOW gun fights that start out of nowhere and end in 20 seconds. I guess that's a signature Ford thing?
Or: saw this at the Cine Doré with Spanish subtitles and a caravan's worth of elderly Spaniards. I wonder if they liked the Chuckawalla Swing??
4/5
February 18th - House Party (Reginald Hudlin, 1990)
0.80 for Robin Harris, 0.75 for the groovy dance scenes, -0.005 for every time Kid asks someone a question and then looks at them bug-eyed while awaiting a response
1.5/5
February 19th - The Night of the Hunter (Charles Laughton, 1955)
Never seen such a bizarrely "schizophrenic" movie in my life!! One minute it's a shit-eatingly hokey old timey mainstream movie dripping with children running through valleys and the type of music that makes your upper lip and nose stick together in disgust and dismay, and the next it's a flat-out gorgeous, romantic, otherworldly journey through the Styx of the Hades of the South, replete with completely different music and quiet, melancholy, ancient-looking scenes and songs... one minute it's corny preaching and moralising about the children, and the next it's richly sinister demolition of self-righteous old people, outdated morality, and religious institutions...
And one may argue that the former, in each case (or at least the latter) may be designed to set up, and complement, the latter, but it seems more like it's just bad movie-making - like one or more of the creative forces behind the movie were brilliant, and one or more were friggin troglodytes - and it still unfortunately sabotages the 'hack out of the movie in the end. Like the kindly old lady smacking that young baw with the hemp rope, that first half was straight wick-wick-wack!
But it still gets a 4/5?! Yes, because that whole escape interlude was *out of this world*! Good golly! If the whole movie were that good it'd be way up on my top list. But as it is it's just a totally badass premise, a bunch of corn syrup crap, and a bunch of total gold... Also, it's curious how much this movie foreshadowed a) Undertow, and b) You Were Never Really Here. Hmmm.
Other highlights: what a performance by young Billy Boy Chapin! I'm really surprised he apparently did not go on to great things after this; he was a total stud. One of the great child actor performances in a conventional role I've ever seen out of a flick! And in an old Hollywood movie, too, which is usually a recipe for a performance cornier 'n' ma's cornbread!
Other lowlights: after seeing the little girl in this, I never want to have children...
3.5/5